The specificity of Madagascar's green peppercorns
WHAT ABOUT GREEN PEPPERCORNS?
Green peppercorns (le poivre vert) is the common pepper – piper nigrum – but berries are harvested at unripe stage.
It is a very special spice, very different of the black one, with many different culinary uses.
Picked young and fresher , green peppercorns keep its green colour, a mellow appearance and a milder texture.
Green peppercorns has a « luxurious » flavour as it still contains all essential oil perfumes : a real natural flavor.
Green peppercorns taste is warm of course, but less « hot and agressive » than the black Pepper one.
Pour l'art culinaire et la condimentation des plats, le poivre vert remplace avec bonheur le poivre noir.
In a way to keep it green and soft, it should be preserved.
Preservation in vinegar is not satisfactory as it spoils flavour, taste and colour of the product, drying have the same conséquences on global quality.
CODAL green peppercorns is only preserved in a light brine « au naturel » then pasteurized, according to an original process improved during many years of experience….and this soft processing provide a smoother taste.
Softer, tender, smoother, than the black one, its culinary applications are far more versatile : whole or crushed, it perfectly combines with most dressings and sauces for games, duck , pork or beef meat, fish, crustaceous, etc… (see recipes) moreover its green colour will be a particular decorative touch.
It is also used in many food industry for seasoning of mustards, soups, sauces, etc… as a few corns may increase an interesting added value to these usual culinary préparations.(see recipes).
It is also used in many food industry for seasoning of mustards, soups, sauces, etc… as a few corns may increase an interesting added value to these usual culinary préparations.
Green peppercorns, as black one, is good for the digestive transit, help digestion, it is also rich in iron and antioxydants, with anti-bacterial action on intestines.
1964-2014 : 50 years and still green and tasty!
In 1964, green peppercorn was almost known and used only in Madagascar.
it was very difficult to transport it overseas as , perishable as a fresh fruit is, it keeps its colour and qualities only for a few days Afterwards it became brown and deteriorated.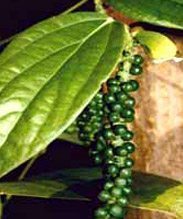 After various experiments, CODAL Company, under management of its founder Mr Jacques BRUNOT, adapted an original process in a way to preserve the very particular taste of this spice and keeping all flavours of its unripe condition.
In that way, we believe to be among the first processors of green peppercorns in brine in the world, maybe the inventors of this way of this soft processing permitting the use of green peppercorns by many consumers overseas.
Since then, we do our best to improve this original way to preserve it, and now, 50 years after first preservation trials, we are proud that quality of CODAL brand became synonymous of « le Poivre vert de Madagascar ».
Our processing plant being close to zones of production, we take the care of preserving peppercorns at the latest within 48 hours after the picking, we try hard to protect specificities and characteristics of typical Malagasy quality.
CODAL Green peppercorns remain packaged from fresh picked berries only at a selected stage of maturity. According to the standards and the procedures HACCP which guarantee both its quality of manufacturing and the traceability of the production.
Shelf life is 4 years and product is available with BIO Organic certification.
The green peppercorns CODALhas been exported towards very numerous countries worldwide: Australia, Japan, Morocco, Canada, the USA, France, Austria, Germany, Denmark, England, Switzerland, Italy, South Africa, Sweden, Belgium, Mauritius Island, Reunion Island, Spain, etc.
The biggest part of the exports of canned green peppercorns of Madagascar in can of food is under the CODAL brand.
We are very proud to serve regularly for more than 40 years , some friends importers who trust until now the quality of the product CODAL green peppercorns, « LE poivre vert de Madagascar ».



« The best green peppercorns is obviously the Malagasy one » (comments noted in various professional publications)
Madagascar Island « la Grande Ile », with its varied landscapes and climatology, without environnemental strains, offers the best conditions for Pepper cultivation.
At the contrary of other origins , Malagasy one has the vantage to be cultivated in a traditional way, without chemicals neither pesticides, close to the border of the wild Eastern forests of the Island, Cultivated in small family estates, as forever, the creeping liana grows around a wild support tree that protects the plant by providing a natural shade…. Harvesting and sorting are usullymanual.
These traditional ways, the selected varieties, the cultural methods, the environment, the know-how of the Malagasy farmers, made that the green peppercorns of Madagascar is generally considered as the leading product.
Still always prepared from fresh, close of harvesting areas, CODAL green peppercorns in tins or jar glasses jars remain preferred and recommended by best restaurants and famous « Chefs de cuisine » all over the world …